Sir Chromalot
Filming at Elstree

Tuesday 19th October 1999 (Registration day)



We arrived at Elstree Studios bright and early.

The film studio consisted of a huge warehouse split into two parts. One half was 'The Pits'; full of work benches, Robots and their Roboteers, a canteen area and a viewing area. The action taking place in the main film set could be seen via a big video screen.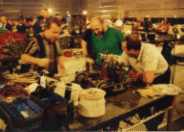 …In The Pits
The second part of the warehouse contained the arena, the audience enclosures, heaps of lights, Cameras, House Robots and of course Craig Charles.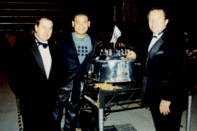 Dave Craig & Merrill
We were met by security, who directed us to the Pit Area. After signing in and collecting our Pit passes we were weighed, Scrutinised and had the Robot's photo taken.

After luncheon there was a camera crew going around interviewing the Roboteers. This was your chance to tell them how good your Robot was. Philippa Forester shows a genuine interest in the Robots. She is a nice person and has plenty of time for people.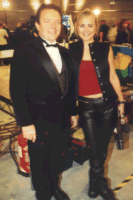 ….Philippa & Team Captain Steve Merrill
Also going around obtaining photos and interviews were a couple of guys from a magazine. Naturally we posed for them, gave our story and asked if we would be on the front cover of Vogue? They said no, but we might get a mention in an all new Robot Wars Magazine. (Sounds fantastic).
Wanting to be different and out to have fun, with prior agreement, we turned up wearing Dinner Suits. The funny thing is I think a few teams thought we were serious!!!

Wednesday 20th October 1999 The Start of filming for our group
As we had to arrive at 0700hrs, we decided to leave Grays at 0600. At 0600 I awoke, looked out of my bedroom window to see Andy, Ian and Tom, who had audience tickets, Dave Whitehead and Steve Merrill all freezing cold and looking angry, so I went for a nice hot shower and then let them in at 0630.
On arrival we had breakfast. Philippa was interviewing roboteers, just before they went on to do battle and again as they came back into the pit area. Tales of war & wow, and an equal amount of victory stories. Battle scar wounds were proudly shown and the 'If Only Club' had lots of new members!! We couldn't wait for our turn!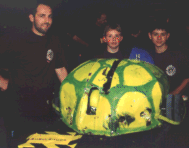 …..ShellShock, showing off some battle wounds
Mentorn, the program makers, have a mammoth task to film, organise, and keep happy hundreds of Robots and their Roboteers. It is inevitable that there are long periods of nothing to do and this can get a bit boring. But being the Hub Nuts with the emphasis on NUT and to the sheer horror of other Roboteers, we chose to spend a little time practising our rendition of a war dance!! It went down like a ton of bricks, but we didn't care, WE were having FUN.
We spent quite a lot of time looking at other Robots. One thing that hit home most is the size and complexity of the Robots. When you see them on T V being thrown around remember they weigh approximately 12 stone / 80 Kilo It takes 2 or 3 men to lift them!. Most are bigger than a coffee table, larger than the engine in your car and equally complex and easily as well engineered and all you see on T V is the bonnet.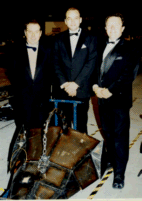 ….Hub Nuts check out Big Brother
Mentorn promised that Robot Wars III will be bigger and Better than ever, They weren't kidding, It's got fantastic battles, Awesome Robots and of course Us!! It starts in December on BBC 2.
Us Hub Nuts weren't the only ones having fun. Big Brother team's Young Joe pulls faces as Steve Merrill poses alongside Sir Chromalot.

Good on you Joe and everybody thought you were being so good!!
So, how well did we do?. Better than that, but not as good as the other!! All will be revealed on BBC2 December 3rd when the series starts. Friends will disown us, our kids will commit us, and our Mums will wince and still be proud of us. We are just three sad old gits having a second childhood.
Mentorn the program makers really had their work cut out at times. They were fantastic, from the director, producer, film crews, floor managers, need I go on?, OK, and the tea lady were all smashing people who couldn't have possibly done more to help and keep the atmosphere electric.
We saw some good Robots, met nice people and most of all thoroughly enjoyed Robot Wars

3,2,1, Activate!!!!!

Back to Index