Sir Chromalot
HIS STORY

How did Sir Chromalot Start?

It was one Monday morning and Merrill called an emergency business meeting to discuss Sunday's edition of Robot Wars with Smith.
Smith explained to Merrill how every time he watched it he wanted to build one, but had no spare time and the making of a Robot would take many months of hard work.

Suddenly both men found themselves sketching and later faxing plans and ideas to each other. By the Thursday Merrill had entered the competition, got a team together, got a boot full of old iron, purchased the radio control equipment and booked a holiday.
Smith had been real busy also, drawing up the master blue-print technical drawings for the Robot.

First blue-print ?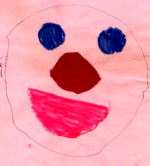 So it began.
Many many drawings, and designs were thrown in the bin. Then one day Merrill who works at Scantruck, a Truck Distributor, saw an old wheel rim. (Clearly shown in above Technical Plan) 'Robot could be born in that' he thought.
Enter Dave Whitehead who works at the same company, "No problem" said Dave, "What was the show called again?"
So it was decided upon, except Smith, who said "No." (obviously!!) At first it appeared we had loads of room within the hub for all the motors, batteries etc.(HA HA)
Merrill then sources a beautiful chrome wheel hub, and Dave soon carved it up.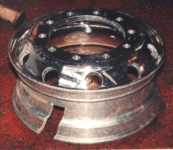 We then received confirmation that we could attend the audition in 6 weeks time?
Dave said no problem, the two Steves said "You must be joking" in unison (or something similar) It was however, decided to go for it!!!
Merrill had previously, unfortunately/fortunately, booked a holiday for the two weeks prior to the audition, oh dear. But he went anyway. (Due to the fact of his partner Lisa letting him live if he went.)
So the pressure was on Smith and Dave even more to get the project done.
Prototype 1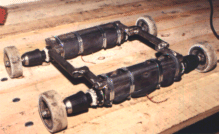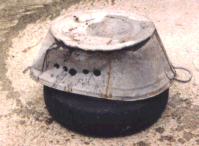 With prototype 1 in the bin and Merrill gone, the team had just two weeks to build. Dave enlisted extra help in the form of Ian and Tom amongst others.
Within a couple of days the perfect chassis was developing, Smith was bashing out even more complicated circuitry and electrical drawings and Merrill was developing a tan.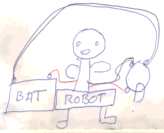 Everything was going to plan, only seven days left to finish. The now completed chassis was delivered to Smith to wire up.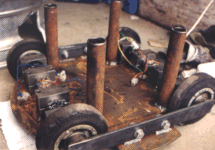 Dave had excelled and Merrill was now burning.
The team was now working until the early hours. Smith and Andy doing the wiring, Dave & Co finishing the chrome wheel hub and building the top part, which was to be a couple of sledge hammers in the shape of rotating helicopter blades powered by a starter motor.
No one knew whether this thing would be finished in time, let alone work. Smith turned up the volume on his moaning and was well into needing a charisma by-pass.
With only two days to go, things started going wrong. A major problem of radio interference had been discovered. Yep, now we kept getting Grays Taxis every time a relay switched in. It was sending the servos haywire. A whole day was lost to solving this fault. Then there was insufficient room for the batteries. Something had to give? It was decided that the 'something' remains classified. We would however like to thank the nice men in white coats.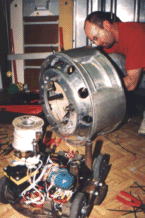 Saturday at 4.33pm the whole crew assembled to see if Sir Chromalot was to perform or not.
4.45pm there was much celebration. It was working, a few teething problems to sort but of no real concern, we would make the audition Sunday.
Finally at 2am Sunday, morning of the audition, it was done.
It worked. It was devastating. It was powerful. It looked fantastic. It was SIR CHROMALOT
The rest my friends is history.... enjoy the show.
Again many thanks to:
Andy for his calming influence and attention to detail and stopping Smith from hanging himself on several occasions.
Ian for his constant chasing to us all plus sorting many items and going to many varied companies bending their ear for help plus drinking all the tea.
It is a sure thing that without them the Robot would not have been completed in time.

Back to Index